I love Japan, and Kit-Kat, but is this For real?!!?! – http://kotaku.com/japan-now-has-kit-kat-sushi-1791770433 – Worth a try?
Japan Now Has Kit Kat…Sushi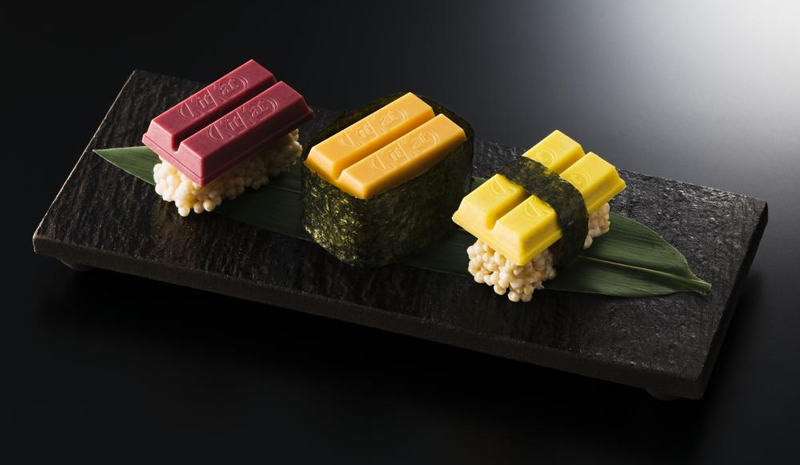 This week in Tokyo, you can buy Kit Kat sushi. Dreams are real!
According to Entabe and Tokyo Bargain Mania, the first street-facing Kit Kat specialty shop will open in Tokyo's Ginza on February 2. (The other shops are located in department stores and in underground shopping areas.) To mark the event, the store will be selling very special sushi Kit Kats.
Kit Kat sushi will come in three flavors: Maguro (tuna), Tamago (egg), and Uni (sea urchin). Their actual taste is slightly different, but the treats were created in the image of the sushi that inspired them.
Maguro is raspberry flavor Kit Kats on puffed rice covered with white chocolate. You get the sourness of red fruit with the sweetness of chocolate.
Uni has both Hokkaido melon and mascarpone cheese flavored Kit Kats wrapped in seaweed, gunkan-maki ("battleship-maki") style.
Tamago is pumpkin pudding flavored. The Kit Kats are served on puffed rice covered in white chocolate and wrapped with seaweed for a gentle flavor akin to real tamago.
This is the first Kit Kat sushi available in Japan. Last year, however, Kit Kat Japan did have Kit Kat sushi as an April Fools' Day joke.
These, however, are no joke! The Kit Kat sushi set is available for upwards of 3,000 yen (US$26) at the Ginza shop in highly limited quantities between February 2 and February 4. Expect them to go fast.